ProTrainings has its roots as an instructor training and curriculum design provider. This has allowed for the development of tools, systems, and curriculum that is built to meet the needs of our students. These unique benefits are what makes ProTrainings and your training business different from the rest.
---
It's a well-known business fact that it takes far more resources to acquire a new customer than it does to keep an old one. However, old customers are often the most overlooked. ProTrainings provides a built-in customer retention system through its expiration reminders and weekly refreshers.
---
Expiration Reminders:
These are sent to the student near the time that they are going to expire. This allows them to plan ahead to schedule a class and the communication itself includes your name and how to get ahold of you.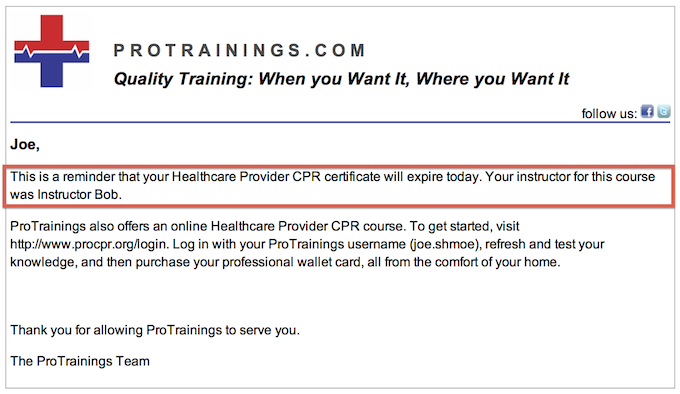 ---
Emailed Weekly Refreshers:
These are refresher videos that are emailed to the students weekly. This is an opt-in service that lets the student conveniently review in small segments so that their skills stay fresh throughout the certification period.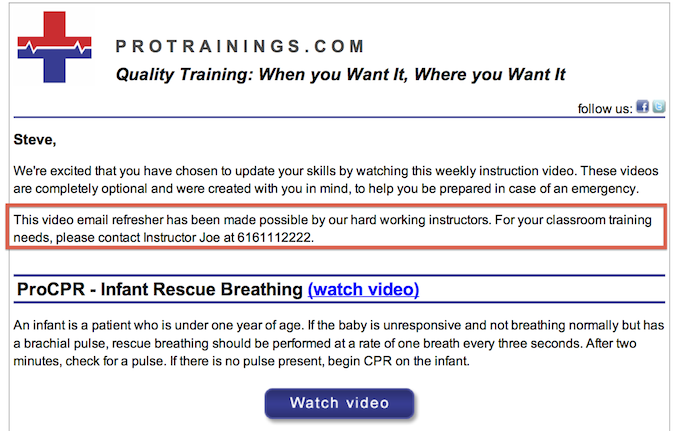 ---
One of the primary ways ProTrainings is different from other curriculum providers is our attitude toward instructors. Our objective is not only to supply instructors with materials and credentials necessary to complete a course but to go further by supporting that instructor. Technical and business support have two separate functions.
---
Business Growth Support
Local marketing programs to increase customer base
Be involved in new product development
Learn business growth tips & tricks
Get class listings, blog sites & other tools.
Technical Support
Full time customer service for instructors
Full time support for instructor students
Centrally located record keeping
Prompt technical troubleshooting
---
With ProTrainings, instructors not only have the ability to offer another curriculum, but now also have the ability to offer blended and 100% online courses to their customers. This gives you the flexibility to be competitive and meet your customers needs in a way no other competitor can.
---
---
---
---
Increase Your Revenue Streams
Classroom education confines an instructor to only making money where and when he or she can physically teach. Online education allows students to learn anywhere and anytime. ProTrainings allows instructors to increase revenue by earning commissions on online learning anywhere, anytime.
---
Cost Savings
ProTrainings has developed a system that allows instructors to teach classroom courses, e-learning courses and blended course at the most competitive rates possible. This is done by reducing the overall cost to teach a classroom or blended course, increasing the instructor's profit margin without sacrificing the value to his or her students.