Why have ProTrainings train your in-house instructor?
Training an in-house instructor allows you to provide staff training in a flexible and cost-efficient manner. Using ProTrainings instructor training allows you to experience the benefits in place for instructors, end trainees, and company compliance administrators.
---
3 Ways to Train - You Choose!
Perfectly fit your organization's training needs by offering classroom courses, blended learning, & on-line learning. This allows you to offer accredited courses in the method that suits the trainees best.
---
Easy Compliance Tracking
Instructors and administrators are supplied dashboards that make using the ProTrainings system easy. Instructors can create classes, order certificates & track students. Compliance administrators are able to track expiration dates, receive reminders, & track progress. If one person does both jobs, these dashboards can be integrated for one simple tool.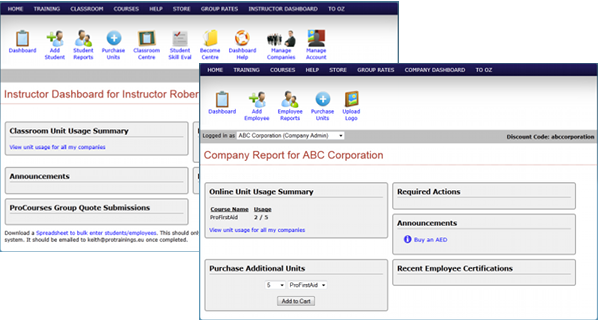 ---
One Stop Training Solution
Using ProTrainings for your instructor training, curriculum, and training supplies gives you the most competitive training package on the market today. Learn more about the instructor supplies we offer and how we can save you and your instructors money.